AppleInsider is supported by its audience and can earn commission as an Amazon Associate and Affiliate Partner on qualifying purchases. These affiliate partnerships do not influence our editorial content.

If you want to make a video call on FaceTime but don't want to show off a messy room, here's how you can set your iPhone, iPad, or Mac to blur the background.
Whether you're working from home or catching up with friends and family, you've probably had to make or take a video call. Someone will launch FaceTime and turn on the video so they can see you, and the same for you to see them.
Part of the problem with video calls is that sometimes you can't prepare enough for them. If you're on a call, you might have enough time to make sure you're presentable, but you might not be able to make the room you're currently in to look the same.
Not everyone keeps their living space blank for video calls, and while it might be okay in some cases, it might not be great in a phone interview or if an important person calls and you have a problem. messy background.
It may not even be the cleanliness or tidiness that is the problem. You may have a poster or picture on a wall that is unsafe for work or family, or have child-friendly objects in sight.
There's also the general issue of video call privacy, as it's quite possible for someone to determine your location if you're on the go just by looking at the background of your video stream.
There are a lot of reasons for not wanting to view your current history, and Apple offers a way to resolve the issue.
Blur background
Introduced in iOS 15, iPadOS 15, and macOS Monterey, FaceTime gives users the option of turning on Portrait mode for their iPhone or iPad's camera, or a camera connected to a Mac. This will create an effect similar to a portrait taken on an iPhone, where the background is blurred with computational generated bokeh.
While the iPhone relies on depth data from the TrueDepth array of cameras to create the blue, while the Mac relies on machine learning to determine the subject, the end result is effectively the same: The background is out of focus while the subject (you) is visible without blurring.
Supported hardware
To activate the feature, you must be using a specific model of iPhone, iPad, or Mac. On unsupported devices, the option is simply not available, but FaceTime will work normally.
To use it on iPhone, you need to be using iOS 15 or later on iPhone with depth sensing capabilities. This consists of:
iPhone XR
iphone xs
iPhone XS Max
iPhone 11
iPhone 11 Pro
iPhone 11 Pro Max
iPhone SE (2nd generation)
iPhone 12 mini
iPhone 12
iPhone 12 Pro
iPhone 12 Pro Max
iPhone 13 mini
iPhone 13
iPhone 13 Pro
iPhone 13 Pro Max
To use the blurry background on iPad, Apple says you should use:
iPad mini 5th generation or later
8th generation iPad or later
iPad Air 3rd generation or later
11-inch iPad Pro
12.9-inch iPad Pro 3rd generation or later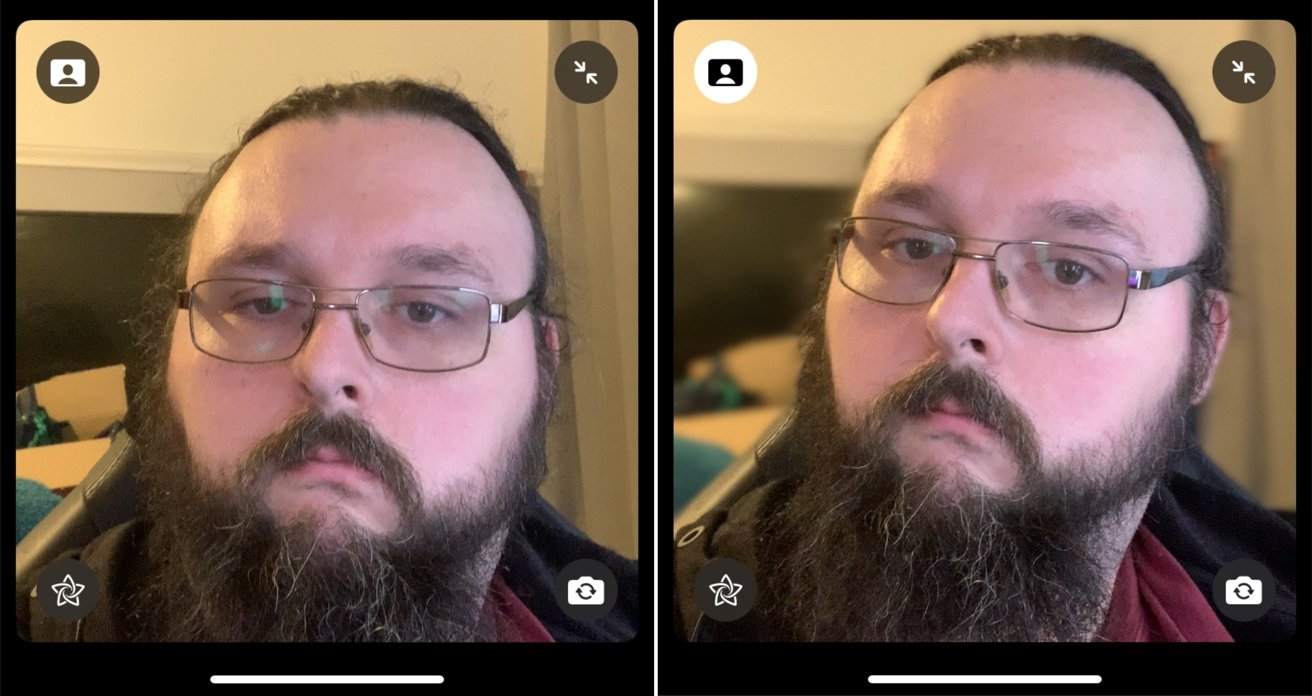 Check the icons in the top left corner with Portrait mode in FaceTime off (left) and on (right)
For macOS Monterey, all you need is a Mac with an Apple Silicon chip. You can take advantage of a built-in camera, like on a MacBook Pro, but it will also work with a plug-in webcam.
Turn on Portrait mode in FaceTime
There are several ways to activate the effect on each platform, one of which is more useful before a call than during it.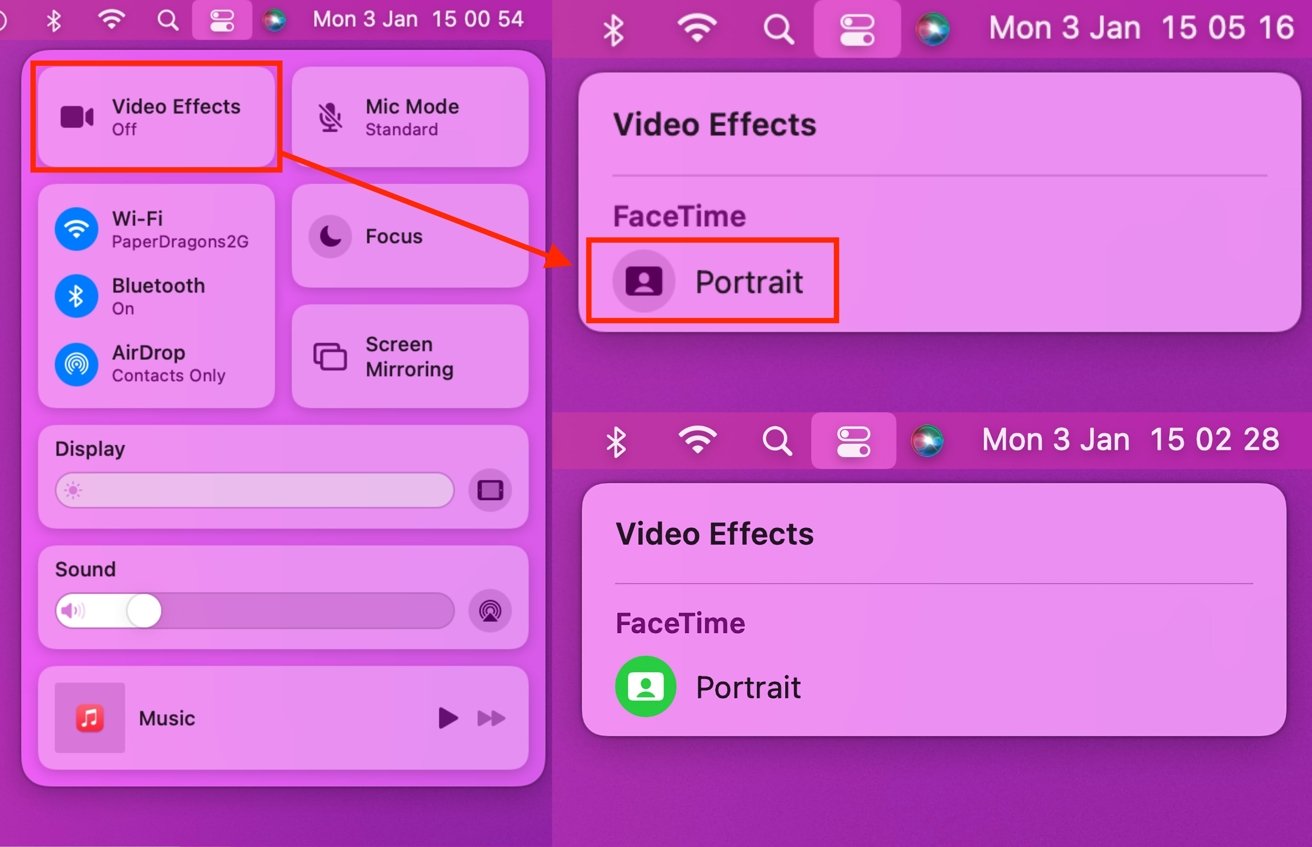 Enabling Portrait Mode for FaceTime in macOS Monterey
How to turn on Portrait mode for FaceTime in iOS 15, iPadOS 15, and macOS Monterey before a call
Open FaceTime.
Open the Command center. On iOS and iPadOS, swipe down from the top right corner of the screen. On Mac, tap the Control Center icon.
Press the Video effects to block.
Faucet Portrait under FaceTime to turn the effect on and off.
This method is useful if you want to activate the effect without actually making a call. You can do this during a call, but doing it in advance prevents the caller from seeing your unblurred background.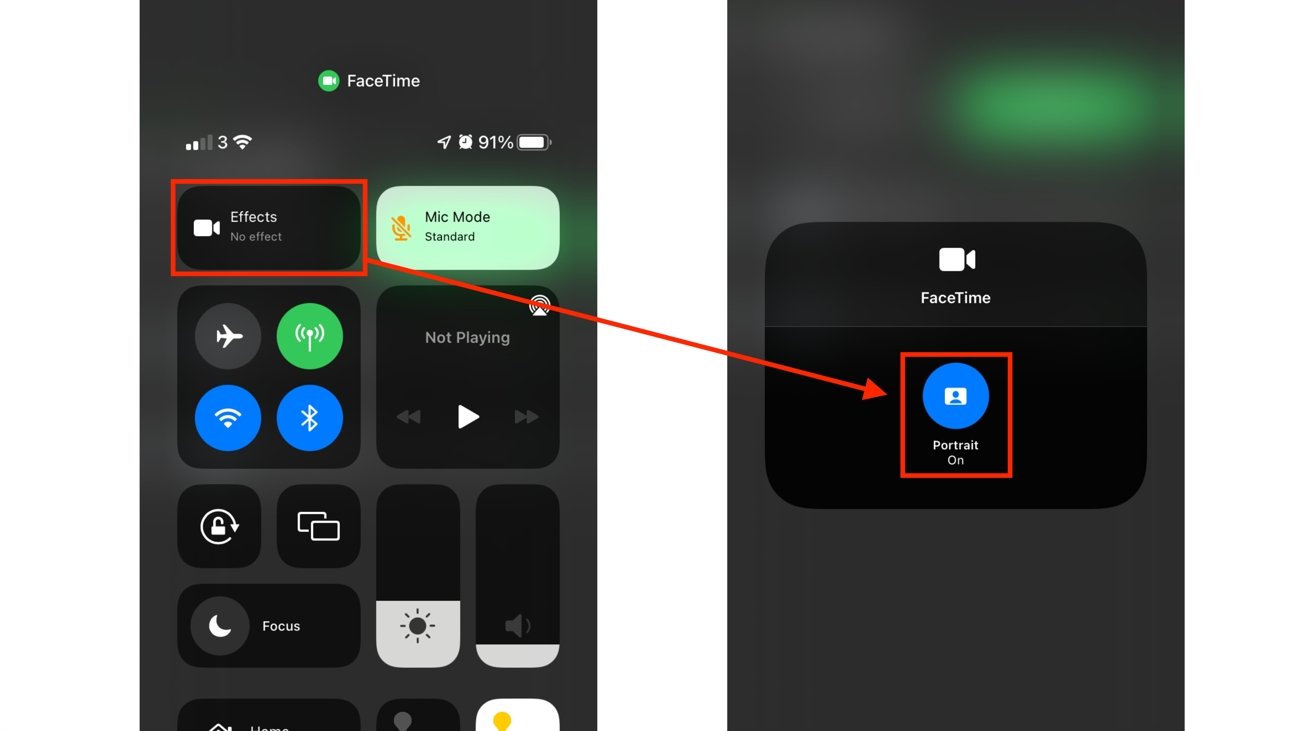 Enabling Portrait Mode for FaceTime in iOS 15.
How to enable Portrait mode for FaceTime in iOS 15, iPadOS 15, and macOS Monterey while on a call.
You can use the same control center process to activate the feature.
Otherwise, tap or click your tile in the call, then press Portrait mode button in the thumbnail to activate it. It is an image of a person with a rectangular background at the top left of the tile.
To deactivate it, press the again the same icon.
Source link