Claire Macdonald conjures up two flavorful dishes using the humble but versatile garden fruit.
It's hard to believe it's the start of the apple and pear season – the months seem to go by and it hardly seems possible that the berry and stone fruit season recedes as our apples and pears grown in Grande -Brittany arrive on the market.
I love our seasons. From a culinary point of view, they keep us going, we the cooks among us. And all foods from the same season seem to complement each other, like apples.
I'm talking about eating apples as opposed to baking apples which behave completely differently when cooked. They are very good in a salty capacity to complement the flavors of game and fish, as well as other seasonal vegetables and fruits.
Apples are also widely useful in a savory capacity as in the more generally associated sweet recipes.
Cooking and eating apples is helpful. Cookers are my apple of choice for making sauces simply because they obligingly form the texture of the sauce.
I use moderately to mild fried diced onions, with grated lemon zest and horseradish to make an applesauce to eat with pork, ham or smoked fish. And it freezes very well too.
But sliced ​​edible apples are good for stir-frying, in combination with leeks and ginger, or in a pheasant or chicken sauce.
Eating apples can form the crunch and therefore the contrast in texture for salads. And salads are for meals all year round, both for delicious food and for their nutritional benefits.
I always aim for British culture because we have a duty to support our own farmers and our apple species are better than any other
country.
My choice is Cox's, or Worcester Pearmain, or Russet varieties. What about new varieties? I like Gala or Pink Lady, but they're not as good as the older strains I mentioned.
Many apple recipes call for the apples to be left unpeeled, which is good because it provides more fiber.
Here are two recipes, both for savory use, using our superb apples.
---
Apple, chicory and celery salad with parsley cream
(For 6 persons)
Ingredients
3 eating apples, washed, dried, quartered and seeded, then diced evenly
3 chicory heads, trimmed and cut into approx. lengths of 1 cm
6 celery sticks, each trimmed at each end, then peeled to remove the stringy pieces – I use a potato peeler – then chopped approx. in lengths of 1 cm
For the parsley cream:
A good handful of flat or curly parsley, the tough stems removed, the parsley finely chopped
4 tablespoons of crème fraîche, whole or reduced in fat, depending on your preference
The zest of a finely grated ½ lemon
Salt and black pepper to your taste, I suggest about ½ teaspoon of salt and 12-15 grinds of black pepper
Method
Put the chopped apples, chicory and celery in a bowl.
In a separate bowl, combine the finely chopped parsley, crème fraîche, grated lemon zest, salt and pepper and mix well. Mix it with the contents of the salad bowl.
This salad can be a great first course, especially when served with hot herb scones or cheese scones.
Claire says: "This very simple salad is packed with nutrients and at the same time, it's great to eat. I prepare it to accompany any cold meat, or game, during the winter months. Use any chicory you like, the most commonly found is Belgian chicory, the white / pale green variety.
---
Pork tenderloin with cream, cognac and apples
(For 4 people)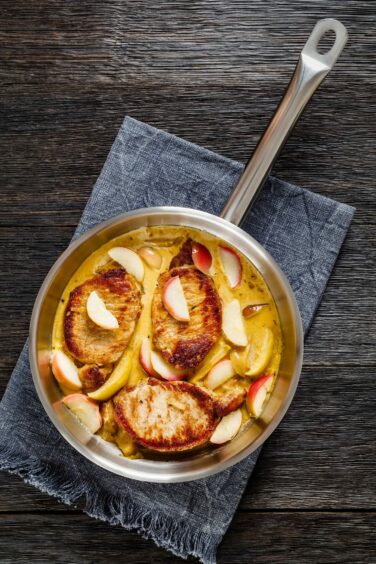 Ingredients
For the fillets:
3 pork tenderloins, each trimmed with fat or membrane, each rubbed with salt and black pepper just before frying them in a large skillet to brown them all over
For the sauce:
3 eating apples, washed, quartered, seeded and sliced, each quarter into 3 slices
A dash of lemon juice
1 tablespoon of olive or rapeseed oil
50g butter
1 teaspoon of medium strength curry powder
150 ml of cognac
300 ml double cream
1 level teaspoon of salt
15 black peppercorns
A handful of finely chopped parsley to sprinkle just before serving
Method
To make the fillets:
Place the golden fillets in a roasting pan lightly covered with paper towels.
Roast, covered, over moderate heat, 160C Fan / 180C / 350F / Gas Mark 4, for 25-30 minutes.
Take the fillets out of the oven and let them rest for 15 to 20 minutes before cutting them into thick slices. Place the slices in a warm bowl, lightly covered, in a warm spot while you prepare the sauce:
To make the sauce:
Sprinkle lemon juice on the apple slices, do it in advance more than half an hour.
In a large skillet or sauté pan, heat the oil and melt the butter together.
Fry the cut apples for several minutes, until just tender.
Add the curry powder and cook for a few seconds. Add the cognac and let it boil.
Then add the double cream, salt and black pepper, and let the cream bubble – since it is double cream, as it boils it thickens the sauce.
Pour the contents of this pan over the sliced ​​cooked pork tenderloins. Sprinkle with finely chopped parsley just before serving.
Claire says: "This is rich and delicious, simple to prepare and can be the main course for any special occasion. "
---
Read more…
Source link